Peinture
Courriel : savitagandash@gmail.com
Tél : 06 15 01 55 19
Savita Jakhar Gandash is a France based Contemporary artist hailing from a small village in Haryana .In the years since, Savita has produced countless works for Art Galleries , agencies, corporations , institutions and as private commissions. She has exhibited her work at numerous art galleries and other cultural institutions.
Savita has also participated in several educational programmes, presenting her work in many schools, libraries and various cultural organisations. Her Artwork has been featured in Magazines and as book cover Art. Savita , an artist with experience of working in India France and Qatar . My artistic work extends to Painting, Prints, Installation, Sculpture, Murals, Ceramics, Fibreglass, Metals and Crafts encompassing virtually every artistic genre. I enjoy working on several projects simultaneously, giving equal importance to works of different genres . I constantly observe the world around and respond to the surrounding with sensitivity.
Through floating lines in acrylic and oil colours, I attempt to make sense of life's complexities, unleash desires and emotions amid complex contemporary society.
Colours, strokes and gestures are used to convey a particular mood, emotion or feeling. Ultimately free flowing oil paints complete the canvas surface, portraying the natural and intricate depth of each living being.

Motherhood – Technique mixte, 80x100cm

I in search of myself – Technique mixte, 65x75cm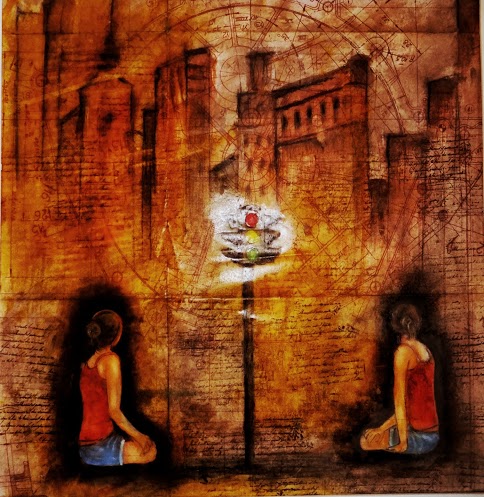 Cityscape – Technique mixte, 40x40cm

Life in metro – Technique mixte, 40x40cm

Five senses I – Technique mixte, 30x30cm

Five senses II – Technique mixte, 30x30cm

Five senses III – Technique mixte, 30x30cm